Sara Nuru – a model between two worlds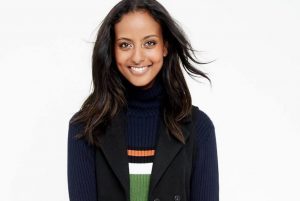 At 19, she won one of the biggest casting shows on German TV. Since then Sara Nuru works as an international top model. And yet cares about more than their appearance – for example, people in Ethiopia.Sara Nuru orders an Americano. After that, she comes to the table in the café in downtown Munich, beaming with joy. Yes, she is a model, but I'm still perplexed, briefly disturbed by this thoroughly beautiful, even face. She is minimalist, stylishly dressed: white silk blouse, black pants, black and white shoes. But who reduces Sara to her appearance is wrong. "I do not go out of style as much as I'm expected to," she says. Fashion is beautiful to look at, beautiful to wear and for a model just craft tool, but not more.
Sara Nuru made her first place at Germany's Next Top Model at the age of 19. The show is one of the biggest casting events on German television, moderated by the internationally successful German model Heidi Klum for decades. For many German girls in Sara's age, the format was and still is the style. Participating in the show is for many to fulfill the ultimate Teenage Dream: Once coached by Model-Mama Heidi and taste the supposedly sweet life of the top models.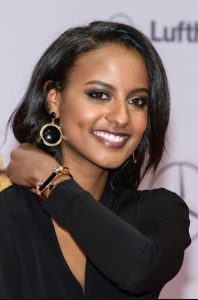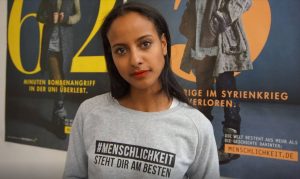 It was different with Sara: she came by chance to the format, her former friend had registered her at the open casting in Munich. The three months of shooting were among the best of her life, Sara says nostalgically. Since her win six years ago, Sara has appeared in numerous advertising campaigns, ran at fashion shows from Paris to New York and was even seen in a German movie.
Sara was born in Erding, a small suburb of Munich. Her parents had immigrated three years earlier with the two older sisters from Ethiopia. Sara connects a lot with the family, her big sister Sali is at her side, also as a professional part of her management.
Sara has only fond memories of her childhood in Erding and Munich. "I know, journalists would now like to hear of exclusion," but she had always felt that she belonged. You can go through the world and always think that you are the foreigner and you will always be the black guy, or you say, "Yes, that's it, right?", She says, while she adjusts herself proudly in her chair.
Immediately after winning Germany's Next Top Model, Sara began engaging in "People for People" – an aid organization for Ethiopia, her parents' country. She is an ambassador for the educational program of the organization. During her first travels, Sara felt two worlds collide: the newfound glory and the glamor that comes with it – and the simple, sometimes very poor conditions in Ethiopia.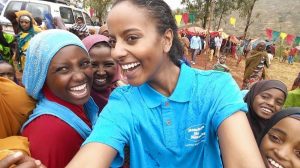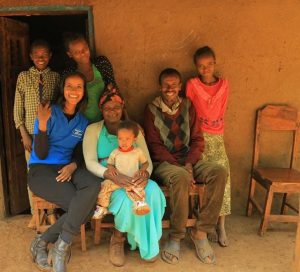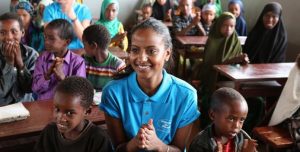 Of course a little charity engagement is part of the modern image of 'Celebrity'. The suspected staging always resonates. But Sara Nuru's commitment has an authentic effect on me. She really feels connected to the people and especially to the children in Ethiopia.
Her involvement in Ethiopia has changed her a lot, says Sara. She had lost a little of the ease of modeling and questioned the meaning of her modeling job. "Over the years, I've noticed more and more how superficial the industry can sometimes be, but that's fine, because I chose this job." Her passion and her "sense", she says, draw on her commitment to "people for people" .
On October 3rd, the 25th Anniversary of German Unity, Sara will attend the charity event "Feel Ethiopia" in Würzburg and present a fashion show with traditional Ethiopian clothing. On this day Sara celebrates her parents' homeland as well as the reunification of the country where the family found a new home more than three decades ago.
At 25, Sara Nuru is already older than many of the models at international fashion weeks. But that does not seem to disturb her. "I do not worry so much about what's going to happen in five or ten years, so far, my life has not gone exactly according to plan." Perhaps, she says, it is also the Ethiopian in her, to live more in the moment and not to think too much about the future.