10 things about Haile Gebrselassie
The Hare
When Haile wanted to jettison to Palermo in August 2006 for a 10-km race, something bizarre came between him: After the departure of the machine, the pilot decided to return: A hare had gotten into the engine of the aircraft after takeoff. Hailes comment: "We've been in the air for an hour and a half when it smelled, we thought it would prepare the food, but that was the hare."
Haile on the marathon
"You have to be prepared to sacrifice yourself for this without any ifs or buts, even if you are a marathon runner, you will not be born." If you think he can do a job on the side, it's wrong. "Marathon is very expensive It takes a professional obsession, otherwise it will not matter, whether you are ready to tackle the marathon with your skin and hair, of course talent is part of it, but I believe that talent is equally distributed all over the world You just have to make something out of it. "
His training
The Ethiopian Wonder Runner has set 26 world records. His fishing achievements are due to his professional attitude and hard training. His weekly training is between 200 and 300 kilometers. He usually completes this in the Ethiopian high mountains at 3000 meters altitude.
The Asthma
Hailes Achilles heel is his asthma. The 2007 London Marathon he had to stop because of the sudden pollen. At the Olympic Games in Beijing, the Ethiopian did not start over the 42 km, because the health risk was too high. "The pollution in China is a threat to my health," said Gebrselassie.
His laughter
Haile is often appreciated and admired for his open and friendly manner. The Ethiopian is always with a smile on his face. "He is a star with no stares," says Mark Milde, race director of the Berlin Marathon. When his teacher once asked him why he laughed so often, Haile just shrugged his shoulders. In an interview, he said about his positive outlook on life: "This will be my character, I do not know where it comes from." My father was very strict, but my mother, who died early, was a very sweet and friendly woman had a similar character. "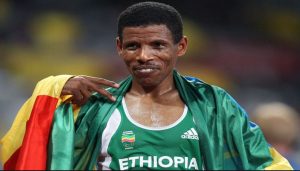 His Trouble
Haile says that he hardly gets angry in the sport because there are only two options: win or lose. But Haile makes it foxy, if someone does not do their job properly or does not take it seriously. He does not like when someone is late. He only gets "really angry" when trees are felled. The people in his homeland knew this and put the ax aside as he ran past them. Once he nearly beat someone when he came home from training and saw that the one with a saw was bothering with a eucalyptus tree.
His first marathon
Haile finished his first marathon (London 2002) after 2:06:35 hours and took third place.
The university lap of honor
A few minutes before the start of the 5000-meter race of the 2008 Africa Championships, Haile received the honorary doctorate for international communication from the University of Leeds. Instead of stepping back to the grandstand after the ceremony, he went with Talar and Doktorhut on a spontaneous lap of honor in front of the approximately 3,500 cheering spectators in the stadium of Addis Ababa.
The businessman
In his native Ethiopia, he is one of the country's most successful businessmen. With his company "Haile & Alem International" he rents, manages and builds apartments and villas. He also runs a tourist hotel with 150 rooms. He is also involved socially: In his hometown of Asela, he promotes talented athletes: Haile has donated, among other things, money for a gym and a cinema.
His resignation
Hailes big goal was the 2012 London Olympics. It will not come to that. The 37-year-old finishes his career at the New York Marathon 2010. Especially bitter: The 26-time world record holder, world champion and Olympic champion must give up his last race injured. Too strong were the knee pain. But after all, Haile has fulfilled a wish: Before the race in NYC he had said: "New York was the marathon, which I always wanted to run." He certainly would not have thought that he would not finish. Nevertheless, it was a storybook career.